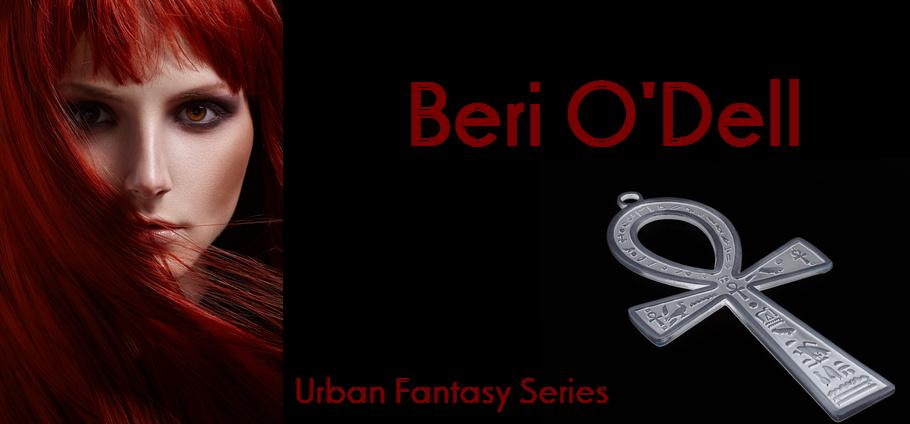 This series is on hold for several reasons, one because the publisher went out of business. I have my rights back and Beri is getting new covers and book one is now in Kindle Unlimited! If she picks up a readership, I will finish the third book. 
Woohoo! Romantic Times liked Blood of an Ancient! (This book is currently unavailable.)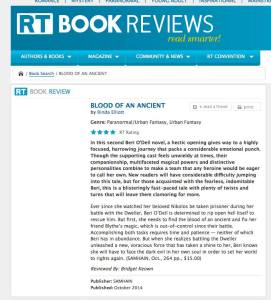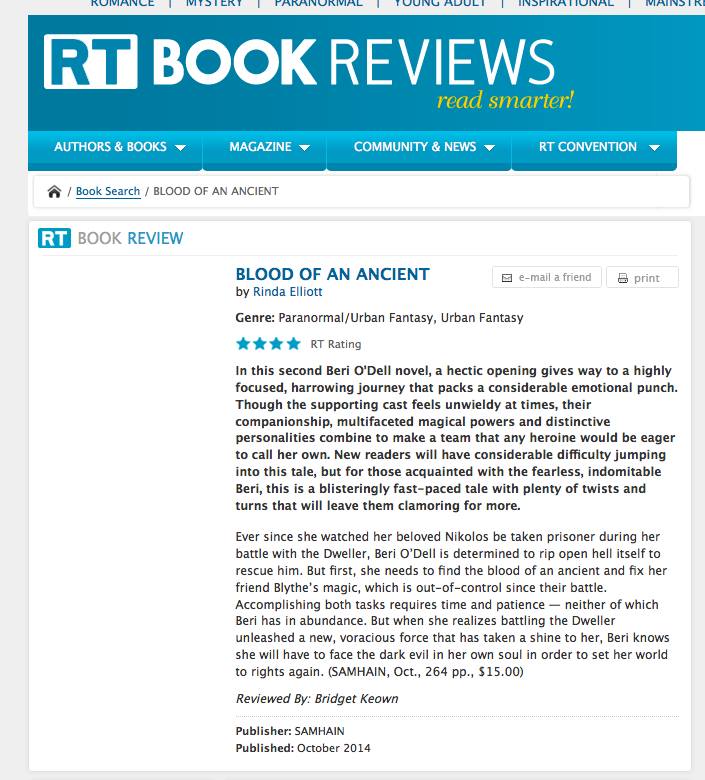 "DWELLER ON THE THRESHOLD is a pitch-perfect blend of witty dialog, horror, and action, with an intriguing hint of developing romance and an ending that will leave readers begging for more."
–Jenna Black, author of the Nikki Glass series 
"While reading Dweller on the Threshold, I often thought "what an interesting book!" The world, the characters and the idea all very fascinating. And quite different too. Rinda's writing is so visual, it paints beautiful pictures. It is very easy to envision exactly what is going on and it really helps bring the story to life. Rinda's voice is lovely." Yummy Men & Kick Ass Chicks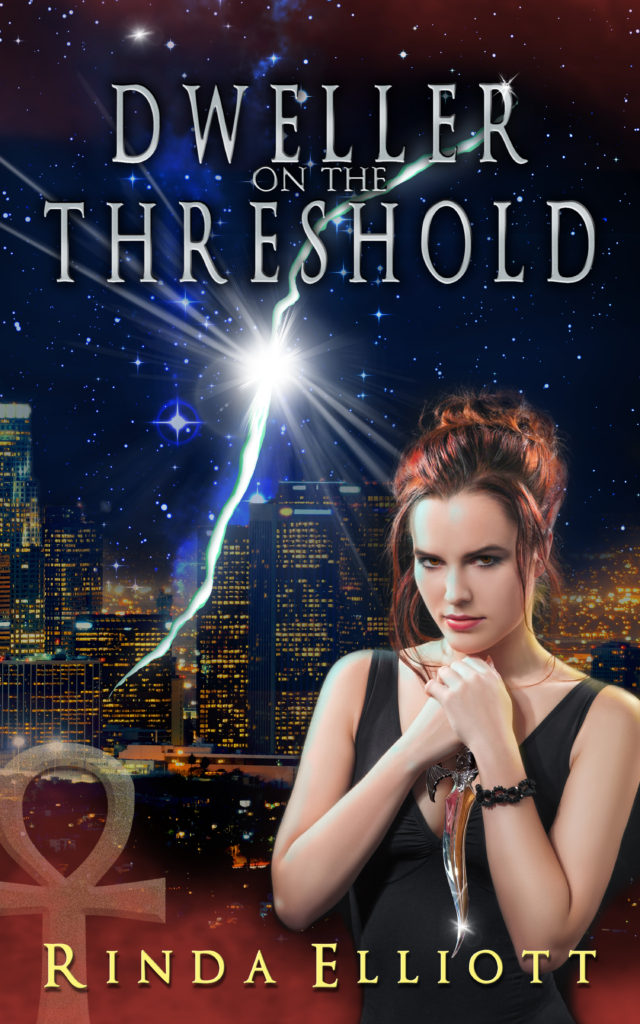 On a hunt to save her sister, the last thing Beri O'Dell needs is love. Aren't demons bad enough?
Beri O'Dell is investigating paranormal creatures because she wants to know what she is. Taller and stronger than most men, she astral projects and can peel through dimensional layers to see the creatures and spirits beyond.
She once helped her foster sister, Detective Elsa Remington, track down killers in Jacksonville, Florida, but stopped when a nasty fire elemental turned her strength against her. Now, she finds herself pulled back when something steals Elsa's soul and puts her into a coma.
With little time to spare, Beri searches for the reason behind her sister's coma. She has help in her spirit guides Fred and Phro, but others come along for the ride, including a pyro-nervous witch, and an androgynous necromancer.
The last thing Beri needs is to fall in love with a mysterious stranger. But the handsome Minoan warrior Nikolos knows what creature she's after because he's battled it before.
It's bad.
Really, really bad.
He calls it the Dweller on the Threshold.
Warning: Contains a worried heroine with no time, a witch with fire problems, a pissed-off necromancer, a trapped goddess, and a damned sexy, but scary, warrior. Throw in bloody battles, mass-murderer history lessons and a bit of sexy time and you get the start of Beri's new life.
Some review quotes:
"Once in a while, I pick up a first book in a new series and, once finished, want to run around the streets of my town and shout "This book was just awesome!  Everybody should read this!!"  This happens to me once, maybe twice a year.  Well guess what?  It happened after I finished Dweller on the Threshold by Rinda Elliott.  And not only did I want to run through my town telling everyone about it, I wanted to run down the highway and go to the nearest city!  This is an excellent urban fantasy debut and I am very excited to tell you guys all about it." From Yummy Men & Kick Ass Chicks. Full FIVE STAR review HERE. 
"With a wildly entertaining and eclectic cast of characters, a heroine with an acerbic tongue and "hit first, ask questions later" approach to investigating, a constant slew of grotesque and violent enemies to keep Beri busy, and a touch of sexual tension added to the mix, DWELLER ON THE THRESHOLD is an incredibly appealing, fun and exciting first book in author Rinda Elliott's new series." From Fiktshun After Dark. Full FIVE STAR review HERE. 
"This is an action packed and beautifully detailed story. It's one of those books that if you go back and read again you would notice something else that you'd missed before – I love that in a book, it combines the comfort of a reread and the excitement of reading something new. I definitely recommend this book to anyone that enjoys urban fantasy; its fast paced, unpredictable and won't let you down." From Scorching Book Reviews. Full FIVE STAR review HERE. 
Blood of an Ancient–New cover coming soon!
From Fiktshun. "This sequel is even more awesome than the first book in the series. Darker. More exciting. More action-packed. Sexier."

Tagline:
Saving the love of her life could mean letting her inner darkness out to play.
Blurb:
Beri O'Dell is on a mission. She has to rip back into a hell dimension fast, but needs two things first—the blood of an ancient and a fix for her friend Blythe's magic, which careened out of control after the battle with the Dweller.
Finding ancient blood isn't easy when the old ones are rare and unwilling to donate. She needs to find Blythe's former mentor…except the woman has lost her mind and joined a traveling band of singing witches.
That's not the only magical monkey on her back. Nikolos is imprisoned, and after a screwed-up spell lets her witness the horror that has become his life, her fear for him grows by the day. Now there's another problem—a powerful being unleashed during the battle with the Dweller likes her gluttonous new existence, and will kill anyone who threatens it.
But Beri has a few tricks up her costumed sleeve, even if it means mining the darkness of her soul to set everything right…and get Nikolos back in her arms.
Warning: Sleazy ancients. Random fires. Nosy teenage hackers. Hints of off-screen torture. Battles with…Beri doesn't know what. And one scary boyfriend who keeps inching toward insanity.
________________
Some Review Quotes:
From Literary Nymphs Reviews. "The world Ms. Elliott has created just keeps getting better. The depth of her descriptions and the variety of characters continue to amaze me—and she somehow manages to weave them into a complicated plot and have it make sense. I mean who would have thought that astral projection, demons, be-spelled witches and a sprite vampire would actually work together, but it does and that's just some of the components in this well written story.:
From Yummy Men & Kick Ass Chicks. "All in all, Rinda writes an exceptional continuation to her series with Blood of the Ancient. The pace was perfect, the story keeps you on the edge of your seat and all of the characters put a smile on your face, even when you want to cry for them. There are tons of twists and surprises to keep you guessing and to keep you wanting more. I am really enjoying this urban fantasy series and I hope there will be many more installments to come."
From The Bookpushers. "I found Blood of an Ancient an enjoyable follow-up to Dweller on the Threshold. One of the things I enjoyed about this story is how Elliot continued to expand her world and pull in just enough reality to ground the dark fantasy. Her use of myths, legends, and familiar interpretations of certain environments such as aspects of hell made it easy for me to visualize what was happening. I am really pleased that she is planning on writing more Beri O'Dell books not just because of where this one ended, but because I find them a refreshing read. She is able to walk the line that appeals to both my romance and my fantasy/adventure reading sides, which is a lovely change. She also ensures that she ends things with enough at stake that I can't wait to find out what happens next."
From The Vampire Book Club. "This time around, we get to see a slightly more sadistic side of Beri, and you know what? I kind of loved it. She's so conscious all the time of her strength that seeing her get to let loose with it against people who deserve it, over and over again, was pretty great. She feels like less of a freak and she's got more confidence now, and the hacker kids, led by Rory, help build it up. They think what she can do is cool, and they're not afraid to let her know it."