Author note: I'm truly sorry about the fate of this trilogy. Unfortunately, this book didn't pick up readers and the publisher is closing down. I love this book and hope to write the other two in the trilogy when I can afford to put them out myself. 🙂
"The characters, the bayou setting, and the language of the people all jumped off the page–I could hear the accents as they spoke, I could almost smell what they were smelling, see what they were seeing. It takes a great storyteller and a great writer to make my senses reel like that when reading. Anxiously and impatiently awaiting the next book!!!!" October Weeks 5 star review here!
"RAISONNE CURSE is a captivating and delectable start to this new series by Author Rinda Elliott. It delivers steamy sexy romance, a couple of dark and intriguing curses, action – both in the bedroom and in the bayou – magic, a few ghosts, some Cajun cooking, plenty of eye-candy, and the promise of more to come." Fiktshun's 5 star review here.
"Love and magic in the Bayou….yummy! This is the first book in the new The Brothers Bernaux Series. And what a fantastic start! It's told from alternate POV's." Aurora B's Book Blog 4 star review here.
"I loved this book. I cannot describe how much I loved this book. The chemistry between these two is instant, but it didn't feel forced or contrived. And each of them as their own person is captivating–I found myself really caring about both of them and their lives, their families." Cola Bear's 5 star review here.
Book one is out!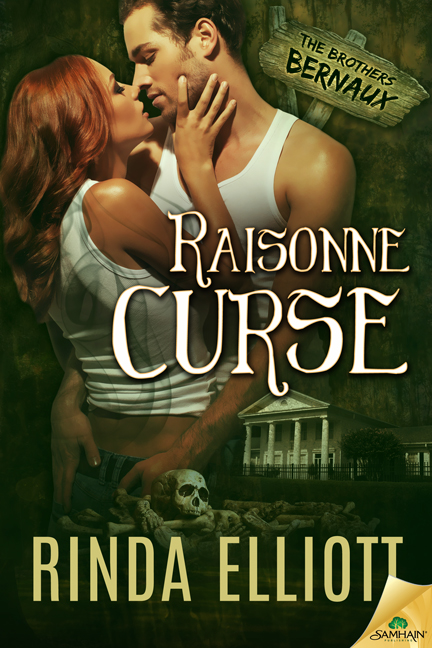 Breaking her curse will cost him his heart…and possibly his life.
Blurb:
The Brothers Bernaux, Book 1
For the past five years, Elita Raisonne has been on the run from a curse that started with her grandmother, and gradually reached out evil tendrils to kill her mother and her aunts. Now, healing from another nasty accident, Elita can feel the curse coming for her like icy breath on the back of her neck.
Her only hope: trek deep into Louisiana's Atchafayala Basin and ask the mysterious Bernaux brothers for help.
Pryor Bernaux takes one look at the black smudge clinging to Elita like a shroud, and recognizes the work of a powerful hex worker. Together, all three Bernaux brothers could easily break it—if Mercer and Wyatt weren't away.
As the curse sinks deeper into Elita's soul, Pryor realizes time is running out for the beautiful redhead who makes him want things he and his brothers swore they'd never have. He has no choice but to help her. But the magical backlash is torture. And without his brothers' help, it could even be deadly.
Warning: Keep a cold beverage on hand, because the bayou isn't all that's hot and steamy in this book. Deadly hexes, naked spellworking, mouthwatering court-bouillon, and sexy Cajuns will curl your toes…and maybe your hair.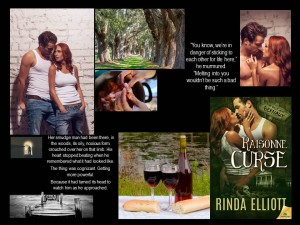 Fun, homemade wallpaper I did. Has some fun story hints. Click to make it bigger!
I'm getting questions about the release dates of the other two books and unfortunately, I have to be brutally honest here. I don't yet have release dates and it's possible I won't for a long time. The sad fact is I've waited months to see if the first book would pick up readers and though I thought this story would appeal to a wider audience than those I've written before, it didn't even come close. I'm heartbroken and still hope to finish the trilogy. But most authors can't afford to write books just for fun. This is a  career like any other.
So, I know that this story has a few very wonderful, strong fans and you guys are staying on my mind while I hope to earn enough on other books to warrant spending the time it would take to write the rest of the Bernaux Brothers' stories. I truly LOVED writing Raisonne Curse and hope I get to take you all back to their haunted house on the bayou. 🙂