Author note: I'm truly sorry about the fate of this trilogy. Unfortunately, this book didn't pick up readers and the publisher closed. I did, however, get the rights back and I've given it a new cover and it's now in Kindle Unlimited! If it picks up readers, I will jump on Wyatt and Mercer's stories!
"The characters, the bayou setting, and the language of the people all jumped off the page–I could hear the accents as they spoke, I could almost smell what they were smelling, see what they were seeing. It takes a great storyteller and a great writer to make my senses reel like that when reading. Anxiously and impatiently awaiting the next book!!!!" October Weeks 5 star review here!
"RAISONNE CURSE is a captivating and delectable start to this new series by Author Rinda Elliott. It delivers steamy sexy romance, a couple of dark and intriguing curses, action – both in the bedroom and in the bayou – magic, a few ghosts, some Cajun cooking, plenty of eye-candy, and the promise of more to come." Fiktshun's 5 star review here.
"Love and magic in the Bayou….yummy! This is the first book in the new The Brothers Bernaux Series. And what a fantastic start! It's told from alternate POV's." Aurora B's Book Blog 4 star review here.
"I loved this book. I cannot describe how much I loved this book. The chemistry between these two is instant, but it didn't feel forced or contrived. And each of them as their own person is captivating–I found myself really caring about both of them and their lives, their families." Cola Bear's 5 star review here.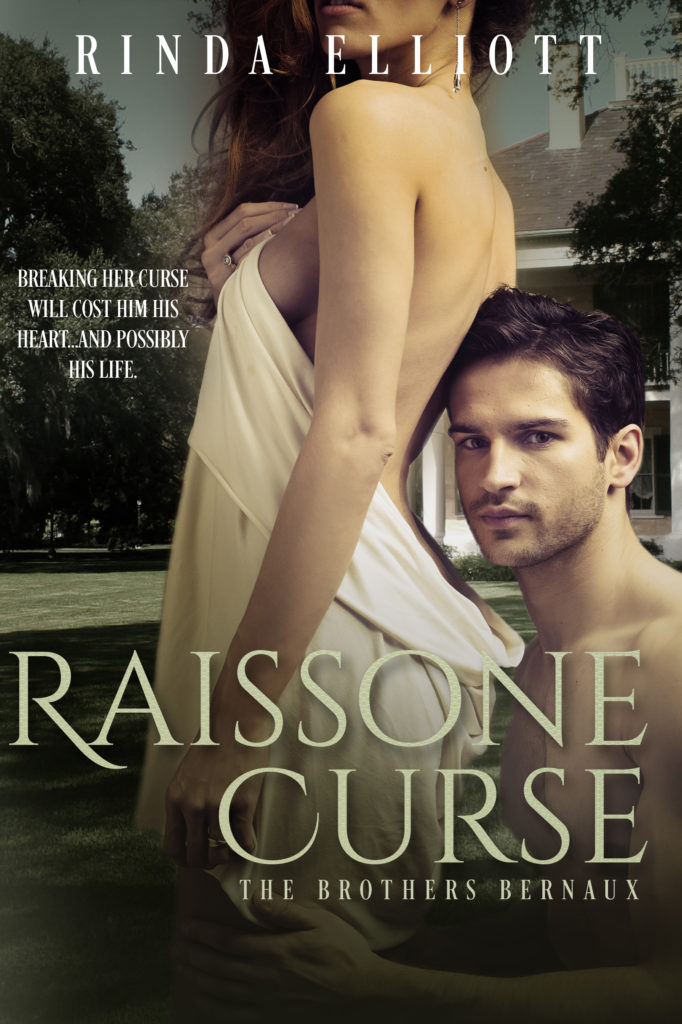 Breaking her curse will cost him his heart…and possibly his life.
For years, Elita Raisonne has been on the run from a family curse that endangered her cousins and killed her mother and aunts. On the heels of yet another painful accident, Elita's only hope is to trek deep into Louisiana's Atchafayala Basin and ask the mysterious Bernaux brothers for help.
With one look at the beautiful redhead, Pryor Bernaux recognizes the abilities of a powerful hex worker. An evil, black smudge clings to Elita like a deadly shroud. With the help of his brothers, he could break the curse, but Mercer and Wyatt are away and Pryor can see she's running out of time. He has no choice but to help the woman who makes him want things he and his brothers swore they'd never have.
The magical backlash is torture and the risk he's taking threatens his heart. Unfortunately, it also threatens his life.
Keep a cold beverage on hand, because the bayou isn't all that's hot and steamy in this book. Deadly hexes, naked spellworking, mouthwatering court-bouillon, and sexy Cajuns will curl your toes…and maybe your hair.