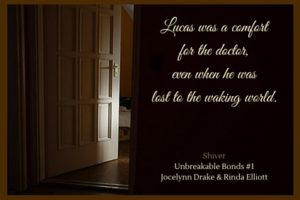 This is from one of my favorite scenes in Shiver.
Did you see that Jocelynn and I had another book release this past week? It's a compilation of short stories and a novelette set between Shiver and Shatter. We have trouble leaving our world, or couples actually, between books, so we write short stories to entertain ourselves and sometimes, we share. We decided to try something–see if our readers enjoyed the stories put together in a convenient bundle for Kindles. It contains the three free short stories from our website, but two of them were made quite a bit spicier. There is also a novelette called Thanksgiving as a gift to our Unbreakable Reader's group and two more new short stories. All together, they show the deepening relationship between Lucas and Andrei from Shiver. Hope you enjoy! Here are a couple of review quotes from Goodreads so far.
"A fabulous set of six short stories showing the growth of something deeper between Lucas and Andrei. This was the perfect blend of sweet and sexy, with a dash of heartfelt emotion and a helping of the humor you've come to expect from this gang. As an added bonus, we're introduced to Andrei's parents….and damn are they just awesome!" Full 4.5 star review from Mirjana here. 
"Just all kinds of romantic!" Full 5 star review from Natalie here.