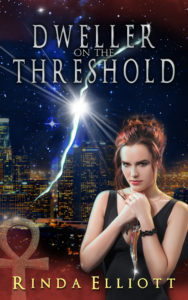 Look who is once again out in the world! (And she's in Kindle Unlimited!)  I received the rights back on my Beri O'Dell books along with all of the others from Samhain Publishing and I'm working on getting new covers and making some into compilations. I'll share as they come up. So what's this about?
On a hunt to save her sister, the last thing Beri O'Dell needs is love. Aren't demons bad enough?
Beri O'Dell is investigating paranormal creatures because she wants to know what she is. Taller and stronger than most men, she astral projects and can peel through dimensional layers to see the creatures and spirits beyond.
She once helped her foster sister, Detective Elsa Remington, track down killers in Jacksonville, Florida, but stopped when a nasty fire elemental turned her strength against her. Now, she finds herself pulled back when something steals Elsa's soul and puts her into a coma.
With little time to spare, Beri searches for the reason behind her sister's coma. She has help in her spirit guides Fred and Phro, but others come along for the ride, including a pyro-nervous witch, and an androgynous necromancer.
The last thing Beri needs is to fall in love with a mysterious stranger. But the handsome Minoan warrior Nikolos knows what creature she's after because he's battled it before.
It's bad.
Really, really bad.
He calls it the Dweller on the Threshold.
Warning: Contains a worried heroine with no time, a witch with fire problems, a pissed-off necromancer, a trapped goddess, and a damned sexy, but scary, warrior. Throw in bloody battles, mass-murderer history lessons and a bit of sexy time and you get the start of Beri's new life.