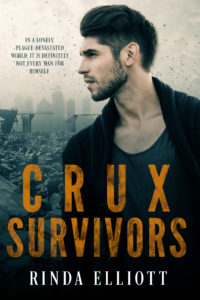 This beautiful cover is by Sloan J Designs!
Crux Survivors is live in Kindle unlimited! https://www.amazon.com/dp/B0714R4Q4N This is a compilation of After the Crux and Sole Survivors, a novella and book I originally published as Dani Worth with Samhain Publishing. These are very sexy! After the Crux is MMF menage and Sole Survivors is MF with a return of the characters from volume one. These stories revolve around a group of survivors 17 years after an illness wiped out most of the world as they come together to form a new community. You know me–made families abound in my work.
I am hoping these pick up a new audience because I love the world so much, I'd love to continue the series! Most will probably be MM, but I do have another MMF planned and even a FFM romance.